NO SCHOOL TOMORROW/ NO HABRA ESCUELA Manaña
Posted: Apr 26, 2018
This is just a reminder, there will be NO SCHOOL tomorrow, and Friday April 27, 2018 all DPS classes are canceled.
If your student is in Shakespeare, the Shakespeare Festival is still happening on Friday, April 27. Please make sure to bring your student to Doull by 9:00 am sharp. Please do not be late or the bus will leave without you!   We will return to Doull at 2:00 pm and you will need to pick up your student at 2:00 p.m. Thank you and have a great weekend.
https://www.youtube.com/watch?v=67MNM8gIOK4&sns=em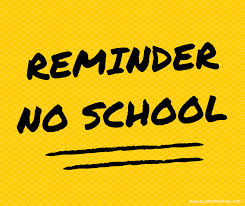 Este es un recordatorio, NO HABRA escuela manaña, Viernes 27 de Abril.
Si su estudiante paraticipa en el programa de Shakespeare, todavia celebraremos y participaremos en el festival de Shakespeare manana, viernes 27 de Abril. Por favor asegurese de traer a su hijo a las 9:00 am en punto. Por favor no lleguen tarde o el autobus se ira sin ustedes! Regresaremos a Doull a las 2:00 pm y tendran que recoger a su hijo puntualmente a las 2:00 pm. Muchas gracias, disfruten su fin de semana!!